Naperville Speeding Ticket Defense Lawyer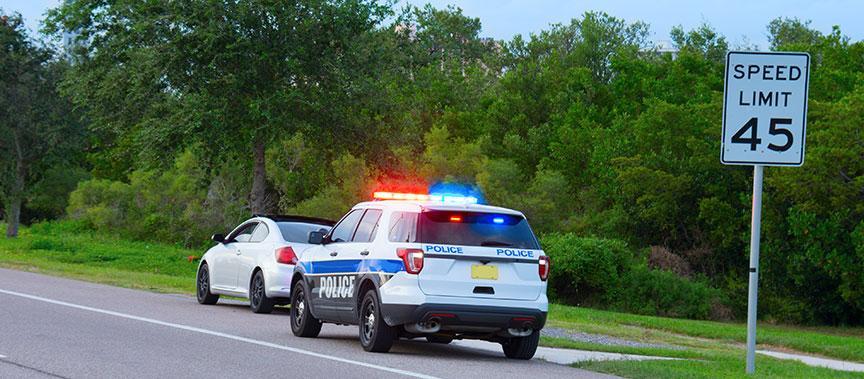 DuPage County, Will County, and Kane County Attorney Defends Clients With Speeding Tickets and Other Moving Violations
A speeding ticket may not seem like a big deal, but the consequences are worse than most people might believe. Each time you are convicted of speeding or any other moving violation, points are added to your driving record. The accumulation of points leads to higher insurance rates, driver's license suspension/revocation, mandatory driver improvement courses, and other potential problems down the road. If you received a citation for speeding, it is important to speak with an experienced traffic violations defense lawyer, so you understand the true costs and the best way to handle the situation.
The Law Office of Patricia Magaña, LLC assists clients who have received speeding tickets in DuPage County and throughout the Chicago area. Attorney Patricia Magaña has over 15 years of experience helping clients fight traffic violations, and she has a strong track record of success. Attorney Magaña handles each case personally, and she works closely with clients, working tirelessly to mitigate the negative consequences of a speeding violation as much as possible. Patricia also speaks Spanish and has represented numerous Spanish speaking clients in traffic court.
The Illinois Point System for Speeding Violations
Each speeding conviction adds points to your driving record, which eventually leads to license suspension. Following are the points for various speeding violations in Illinois:
Driving up to 10 MPH over the speed limit: 5 Points
Driving 11-14 MPH over the speed limit: 15 Points
Driving 15-25 MPH over the speed limit: 20 Points
Speeding in a School Zone: 20 Points
Speeding in a Construction Zone: 20 Points
Driving 26 MPH or more over the speed limit (aggravated speeding): 50 points
Drivers age 21 or over who receive three or more convictions for traffic violations in a 12-month period are subject to a suspension of their driver's license. The length of the suspension depends on the number of points they have:
Up to 14 Points: No Suspension
15-44 Points: Suspension for Two Months
45-74 Points: Suspension for Three Months
75-89 Points: Suspension for Six Months
90-99 Points: Suspension for Nine Months
100+ Points: Suspension for One Year
Suspension periods may be extended if a driver has a previous license suspension or revocation within the past seven years.
Penalties for Aggravated Speeding in Illinois
Driving 26 MPH or more over the speed limit is known as aggravated speeding. In addition to 50 points on your driving record, aggravated speeding can also result in a criminal charge. Driving 26 MPH to 35 MPH above the speed limit is a Class B misdemeanor, which can result in fines of up to $1,500 and up to six months in county jail. Driving 36 MPH or higher above the speed limit is a Class A misdemeanor, which is punishable by fines as high as $2,500 and up to 12 months in county jail.
DuPage County Traffic Courts
If you received your speeding ticket in DuPage County and decide to challenge it, your court date will likely be scheduled at one of the following locations:
Addison: Three (3) Friendship Plaza, 2nd Floor, Addison, IL 60101
Downers Grove: 4000 Saratoga Avenue, American Legion Post 80, Downers Grove, Illinois 60515
Courtroom 1003 (Glendale Heights): 505 N. County Farm Road (Courthouse), 1st Floor, Wheaton, IL 60187
Courtroom 1001 (Wheaton): 505 N. County Farm Road (Courthouse), 1st Floor, Wheaton, IL 60187
Speak With a Skilled Joliet Speeding Defense Attorney
If you have recently been cited for speeding, it could impact you in more ways than you realize. Before you pay the ticket and admit guilt, it is best to discuss the matter with a knowledgeable attorney who can review the circumstances and explain your options. Attorney Patricia Magaña knows what is at stake, and she fights hard to protect the rights and interests of her clients.
For a free, personalized consultation with Attorney Magaña, contact our office today at 630-448-2001. We serve clients in Naperville, Aurora, West Chicago, DuPage County, Wheaton, Downers Grove, Joliet, Will County, Kane County, Kendall County, and surrounding Illinois communities. Se Habla Español.