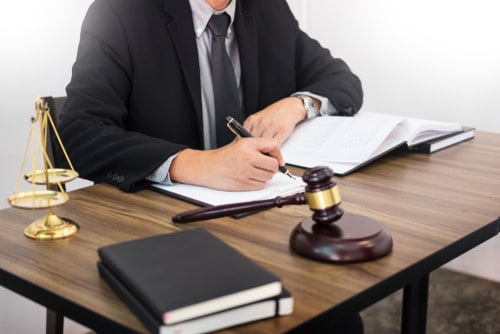 In Illinois, drivers can lose their driving privileges due to a conviction for driving under the influence (DUI), multiple traffic violations, or conviction for a felony offense involving a vehicle. Driver's license suspensions eventually terminate and the driver can pay a small fee to reinstate their driving privileges. However, once your driver's license is revoked, the only way to get it back is through a driver's license reinstatement hearing. Formal hearings are held at one of four Secretary of State locations in Illinois.
Understand the Requirements for License Reinstatement
Formal driver's license reinstatement hearings are usually required when a driver has been convicted of a serious offense such as a second or third DUI or DUI resulting in death. Attending the hearing alone does not guarantee reinstatement. Depending on the circumstances of the offense, drivers may be required to complete a DUI risk education class, early intervention program, or substance abuse treatment to regain driving privileges. Make sure you understand exactly what is expected of you and complete those requirements before your hearing.
Conduct Yourself in a Professional and Polite Manner
The process of reinstating your license after a DUI or other offense can be complicated and frustrating. However, it is important not to let feelings of frustration or anger get the best of you. One of the best ways you can make a good impression on the Secretary of State hearing officer and prosecutor is to act with professionalism and courtesy. It may seem trivial, but politeness can go a long way in a reinstatement hearing. Showing up late, dressing inappropriately, or using rude language can harm your chances of getting your license back.
...